Monitoring: Headphones and Speakers
To create your music, you will obviously need a something to listen to what you have just made: headphones or speakers. The headphones are an excellent element in your mixing stages to complete the input of your monitoring speakers.
Monitoring headphones
There are two types of studio headphones: closed headphones and open or semi-open headphones. Closed headphones are usually used for recording tracks and open headphones for mixing.
Closed headphones
isolate the sound and prevent unwanted noise around you: it is the best choice for recording voices/singing as to avoid feedback from the headphones into the microphone.
The open or semi-open headphones
offer a low distortion of the sound linear and faithful resolution of the musical frequencies: this type of headphones is to be privileged when composing, especially on the mixing part.
Audiophiles and sound engineers regularly opt for the open headphone solution. The open headphones allow sound to enter and exit the headphones freely and offer a sound that is often natural, open and more precise than that of closed headphones. The resulting stereo image is wider and deeper. For mixing and mastering, open headphones provide a similar feel to monitoring speakers.
Best sellers headphones studio :
BEYERDYNAMIC
DT 770 Pro (80 Ohms)


AUDIO-TECHNICA
ATH-M50X


SONY
MDR7506


Monitoring speakers
For your studio/home studio, the choice of speakers is paramount. Whether you have the latest software or a top-quality sound card (which is also of importance), every expert agrees that choosing the right speakers is crucial to the layout of your studio. Moreover, if you choose them wisely, they will last the longest among all the components of your studio.
The difference between monitoring loudspeakers (also called monitors) and stereo loudspeakers is that the monitors are neutral, i. e. they do not colour sound, reproducing the recorded sound as well as possible, unlike stereo loudspeakers which embellish/alter the emitted sound.
The monitoring loudspeakers will therefore serve as a working tool and must deliver the sound as close as possible to the real frequency of the music, this will allow you to:
- distinguish each instrument in the mix
- hear and correct any defects in volume or frequency equalization
- have the most uniform rendering possible for your music to sound the same on your computer, internet or hi-fi system.
- avoid nasty surprises when you discover your music on a new medium.
The monitoring speakers consist of one or more loudspeakers and are connected to a sound card through a jack, cinch output (red and white jacks) or XLR output (as for mic jacks).
Budget
The price range varies according to the type of loudspeaker:
- The entry-level loudspeakers cost between 50 and 150€ and are closer to stereo speakers.
- Mid-range speakers cost between 150 and 450€ per unit and offer very good value for money.
- High-end speakers range from 450€ to over 7000€ for models of excellence.

Keep in mind, you won't regret spending your money on good speakers that will be the key of your home studio, from €150 per unit (€300 per pair) you can consider it a good investment for your home studio.


Active or passive speakers?
There are two main categories of loudspeakers: active and passive speakers (in addition to active/passive or nearfield/midfield speakers). Passive speakers require an amplifier while active speakers are monitors with built-in amplifiers.

Noise level apparently has no difference. However, we recommend active loudspeakers with built-in amplification, which are more convenient. Indeed, with active monitors, you don't have to worry neither about the power nor the position of the amplifier in your home studio. Active speakers simplify operation by simply connecting them to a 220-volt power cable and the audio input/interface, turning them on with an on/off button and adjusting the volume directly on the speaker. In addition, the amplifiers integrated in the active monitors are perfectly adapted to the transducers (tweeters, boomer...) of the loudspeaker.



Best sellers loudspeakers studio :
NEUMANN
KH 120 A


M-AUDIO
BX5D3


MACKIE
CR4


Size and power of the speakers
With studio monitors, size is not necessarily synonymous with quality. If loudspeakers with a large boomer will usually provide access to lower frequencies, these can be counter-productive in a small room. The high power of the speakers will go against the desired effect in a room too small and you will lose accuracy. The power of your speakers is therefore above all a question of volume, which will affect the performance.

If you're in a small space, we recommend that you buy 5 or 6.5-inch models and prefer two-way speakers, even if you're using a headphones for low frequencies. There is no need to equip you with 300 watts of speakers if you make your music in an apartment, you will not be able to turn your speakers loud enough for a correct and accurate sound, without shaking the whole neighborhood.

In a large room, a model with a speaker of 8 inches or more is your best choice, otherwise the speaker will operate at low speed and the distance between the listening point and the speakers will be too small. Loud speakers with many watts will require you to be used at a certain listening level. Below that, the frequency response will not be optimal.

If your room is not acoustically treated, the settings (filters, equalizer) are significant: the more there are, the more they will be able to correct.


Positioning studio speakers
Your working position in your home studio will affect the choice of your monitoring speakers, placement and location are crucial for optimal listening. The way your speakers sound in the low frequencies is influenced to a great extent by the size and shape of the room in which you create and listen to your music, but also by their positioning. The medium and high frequencies will also be influenced in the same way by the materials that are present in the room and on the walls, absorbing the sound.

If you need to mount your monitors on the wall (practical for tight spaces), opt for front vents rather than the back of the monitor to avoid unpleasant disturbances in the bass due to poor wave scattering (rumbles). If you still have a CRT screen, prefer a magnetically shielded enclosure. Include accessories in your budget that are useful for placing your speakers, such as foam speaker stands or speaker stands.

For the placement of your studio speakers, they should be installed symmetrically to the center of the room and ideally located more than 30 cm away from walls and corners. This layout is recommended for bass reflex models with rear vents. Some monitor models offer a switch to help you adjust the response in low frequencies and compensate when near a wall or corner.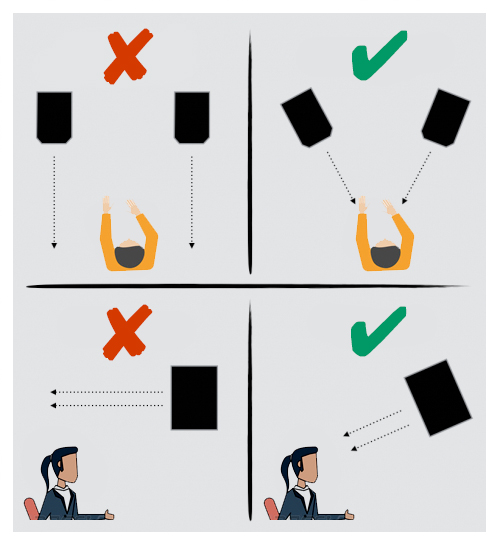 Useful accessories
The connectors available to you are not necessarily standard, and some speakers have few connectors. It is up to you to check what you have. If necessary, you can use adapters and other cables to connect the speakers: XLR or Jack TRS cables for a symmetrical connection, or RCA cables for an asymmetrical connection.