Setting up your first home studio
There is no ideal configuration because every Home Studio depends on what you want to do with it, whether you are a beatmaker, a composer, a band or a solo artist. In order to help you assemble your first home studio and make it easier to choose from the variety of hardware offered by the manufacturers, we present here a simple configuration to start with, composed of the essential elements.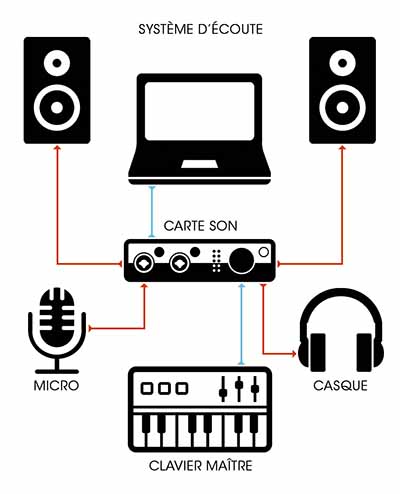 Definition of home studio
A Home Studio is a small recording and mixing studio for amateur or professional. It consists of a set of elements derived from computer-aided music (CAM) to record, create, process or mix music and sound. Your home studio will allow you to manage audio or MIDI signals using a computer, sound card, monitoring system and optional devices such as a microphone, keyboard, sampler, workstation or mixer.
A computer
Simple Home Studio Setup This is the centerpiece of the Home Studio! It is therefore essential to have a powerful computer, with a good motherboard and a high quality processor. To avoid bugs during the creation or mixing of your music, it is preferable not to use other programs in the background that would make you lose power (internet, games, displaying several windows etc.) because the music requires a lot of resources!
To save your masterpieces, plan an internal or external hard drive of at least 500 GB. We recommend that you make a separate backup of your system in the event of a hard disk failure to ensure that you don't lose all your data.
Music creation software
Digital Audio Workstation (DAW) software allows you to find all the functions of a mixer on your computer. From one software to another, we will find more or less the same functions but with a different ergonomics. Here are the most used ones:
These softwares are very complete and offer a large number of tracks. They also contain effects and processing plugins as well as a large collection of samples and modelled instruments.
A master keyboard
The master keyboard or keypad is used to control your music creation software, connected directly to your computer via a USB port. Unlike the arranger keyboard and workstation synthesizer, the master keyboard has no pre-recorded sound or rhythm, but allows you to record MIDI sequences by playing an instrument from the software.
A sound card
The sound card or audio interface is the part of your computer that allows you to process all the sound elements (voices, music, system sounds) via a software of creation and audio production. One might think that the internal sound card of your computer may be enough, however, a dedicated sound card gives you many advantages such as the quality of conversion from analog to digital and a set of connections for your XLR, Jack, SPDIF or other cables, allowing you to connect external instruments, microphones, headsets etc....
A sound card can come in three different forms:
- a chip (chipset) integrated in the motherboard
- an internal card
- an external card
The choice of your sound card will depend on:
- Converter quality: this will determine the quality of your recordings.
- Preamp quality (for a microphone or instrument)
- The number of inputs and outputs (for your speakers, headphones, etc.)
To adjust the microphone and instrument mix, we recommend that you choose a sound card with a mix button.
Monitoring system
To create your music, you will obviously need a listening system: headphones or speakers.
Headphones
For mixing and recording you will need a headset. A hi-fi headset is different from a studio headset, the latest offers a much more precise and better sound (less flattering, more neutral) to analyze your music. There are two types of studio helmets: closed headphones and open or semi-open helmets. Closed headphones are usually used for recording tracks and open headphones for mixing.
However, we do not recommend that you mix your music exclusively with the headphones, because even with super headphones, the sound output can be misleading and differ from listening to speakers. So, from time to time, pause and listen to what your music is worth on a good pair of speakers.
Monitoring loudspeakers
The monitoring loudspeakers deliver a precise sound, supposed to be faithful to the one recorded raw at the beginning of the chain and thus having for vocation to be worked, cut. For your home studio, you will need to choose very linear speakers, i. e. with a good balance between bass, midrange and treble. This balance of sound will allow you to hear and perceive all the details of your music to help you make a perfect mix and listen to your music on any other listening system.
A microphone
Microphones are catalogued according to their capsule types but also according to their directivity, i. e. how they pick up sound from different directions. There are two main types of microphones: omnidirectional and directional microphones. Omnidirectional microphones, with their simple design and manufacture, are easy to operate.
Omnidirectional microphones
These microphones pick up the sound uniformly, regardless of where it comes from, whether you point it at the subject or the other way around, provided of course it's evenly spaced. It should be noted, however, that the best omnidirectional microphone models tend to become directional at high frequencies, therefore, a sound of the same intensity from the rear will look less clear than that of the front.
Directional microphones
The main directional models include microphones, cardioids, subcardioids, hypercardioids and bidirectional models. Also included in this general category are the "shotgun" microphones, whose much more sophisticated design allows for greater directivity than the four basic models.
What is the "best" directivity?
When selecting a directional or omnidirectional microphone, consideration is given to the use (sound recording or reinforcement), acoustic conditions, required range and target sound quality. Directional microphones have the advantage of eliminating noise, reducing reverberation and increasing gain. But in a good acoustic environment, well-placed omnidirectional microphones are able to preserve the original sound quality, and their flat response and lack of proximity effects often win over users.
In the microphones chapter of this home studio purchase guide, we will detail the different types of microphones and their specifications.
You now have all the basics you need to get started and set up your Home Studio to create and/or record your music. Obviously, not everything is summarized in this guide and you may have some questions or wish to get more advice on choosing your studio equipment. The Star's Music team is at your disposal to guide you in our stores or by phone 00 33 1 80 930 900.