THE FOUNDING OF STAR'S MUSIC
The first Star's Music musical instruments retail store opened in 1977 under the direction of Mr. Tallar, in the Pigalle neighborhood of Paris. Known for its cabarets, the Pigalle area is now the place to be in Paris for all musical instruments lovers with its numerous stores selling new and used guitars. With a total surface of more than 500 m², Star's Music is the largest musical instruments retailer in the historical neighborhood of Montmartre.

In 2000, the store was sold to Guillard Musiques to finally be taken over in February 2003 by the TWEETER company. That same company will start a positive dynamic by the opening of a shop dedicated to microphones, another one specialized in acoustic guitars and one focused on drums.

The instant success quickly made the new owners understand that the edition and large scale distribution of a catalogue would be efficient means to communicate throughout France. These printed supports helped develop distance selling for musical instruments and left an indelible mark and memories on the musicians of that era.

It was natural then to create the www.stars-music.fr website in 2003 when digital business was only beginning. Given the experience to date, it was a great success.

In 2008, Star's Music set up in Lyon near Gerland, to open one of the largest retail surface dedicated to musical instruments and PA equipment in France. Continuing its expansion, Star's Music arrived in the town center of Lille in 2009, first in Boulevard Carnot, then in a magnificent 500m² location in rue des Arts. Simultaneously, Star's Music kept on developing its on-line store.
OUR STORES
Our magnificent SUPERSTORES located in PARIS, LILLE, LYON, TOULOUSE and BRUXELLES represent together the largest retail network for audio and musical instruments in France and Belgium.
OUR TEAM
Star's Music makes a difference with its experienced and passionate commercial team. All our customer advisors in-store or on-line have a musical background and know their specialties inside out: a clear advantage to help you with your next purchase whether you are an individual or a company.

Find out about our job offers and boost your professional experience working with a dynamic and passionate team at STAR'S MUSIC, a key player in the French retail market for musical instruments and studio equipment, DJ and PA. Benefit from these opportunities to bring your contribution to the development of a fashionable retail store and serving the needs of musicians.

OUR ON-LINE SERVICES
Pour mieux répondre à la demande de notre clientèle internet, nous avons acquis de nouveaux locaux en 2011 dans les Hauts de Seine dans lesquels nous avons regroupé nos différents services internet ainsi que la logistique dédiée à cette activité. Une base logistique ultra moderne de plus de mille M2. Toutes nos commandes clients y sont gérées avec la qualité et la rigueur qui s'imposent. Les services de préparations de commandes, SAV et hotline assurent un service optimum à tous nos clients.

CUSTOMER SERVICE
Any question? Our customer services counselors are all passionate musicians listening to you, in order to guide and help you through the process of purchasing, or to monitor your order. Do not hesitate to contact us by phone or email for any questions about the music gear you're dreaming of or if juste want to confirm information about your order. Star's Music is here to help you, you can call us at +33 1 81 930 900.



DELIVERY IN EUROPE
You've ordered the instrument of your dreams on our website and wish to receive it as soon as possible. We do understand that and that is why we commit to dispatch your order in the shortest delays. Get a delivery at home, at work or for free in one of our Star's Music stores in France. *Orders are dispatched from Monday to Friday, except bank holidays. + info.



30 DAYS TO CHANGE YOUR MIND
You're placing an order on-line but still hesitating a little? Don't worry because StarsMusic.fr offers a 30 days money-back guarantee to return a product. You decide whether you are Satisfied or Refunded. Musical instruments are generally covered by a 1 or 2 years manufacturer warranty. Ordering on StarsMusic.fr grants you for free one additional year of warranty : most of the products in our catalogue benefit from a 3-YEARS Star's Music WARRANTY, at our cost!
Keep in mind that return policies are different in our partner stores. Contact your store to know their exact return policy.


STAR'S MUSIC 3-YEARS GUARANTEE
Usually, musical instruments have a guarantee up to 1 to 2 years. By ordering on our website, we offer you the tranquilty of a 3-YEARS gurantee, for free ! This guarantee is available for most of the products in our catalogue.


SECURE PAYMENT
Order online and pay by Visa or Mastercard debit or credit card. Payments online are 100% secure through our CIC Cybermut service, which guarantees confidentiality of bank details with an SSL (Secure Socket Layer) encrypted system.



CUSTOMER REVIEWS
We are lucky to work both with the general public and professionals. Famous artists, music schools, theaters, recording studios, academies of music, events management companies or institutions, all these clients loyal for more than 40 years, and all the new ones coming... we thank you for your trust.



OUR INVOLVEMENT FOR MUSICAL CULTURE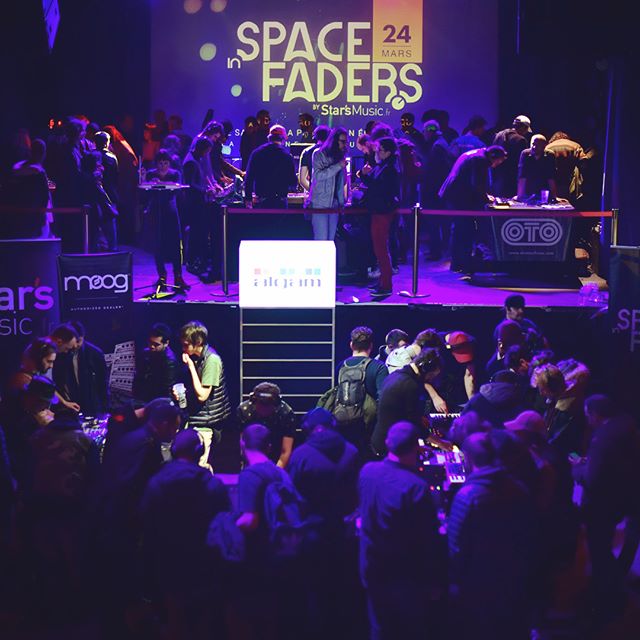 Star's Music is continuously involved in musical culture, by actively contributing to numerous events or by sponsoring various organizations. With 40 years of expertise, it has weaved a network rich of numerous partners with key players of music business in France.

Star's Music also organizes its own events to promote music innovations and showcase talented artists:
• the musical springboard Music On Stage
• the electronic production show Space In Faders
• as well as demos and master-classes in your stores!

We are also very proud to have weaved numerous partnerships and to actively contribute to the musical life as a whole..