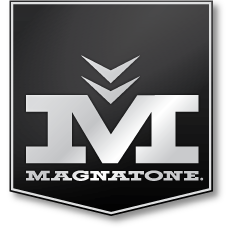 THE BRAND Magnatone
Very american, very powerful and extremly versatile! The Magnatone amps sublimate the guitar sounds at all levels. Cult and vintage, the brand offers high-end amplifiers with its incomparable clear sound and the unique Pitch-shifting vibrato circuit that gives this flavor if 50's to these combos.

The story of this legendary brand begins with a worker at a Salt Lake City radio factory who makes an amp for his daughter in the 1930s. It was in 1946 that the Magnatone brand was truly created to make amps and guitars that would be a hit in the '50s and' 60s. But the competition is tough with brands like Fender and Gibson, will oblige the Magnatone brand to cease its activity in 1969.

It's Ted Krnoblum, boss of the St.Louis Music group - who owns Ampeg and Crate among others - who won the Magnatone brand in 2013 by creating these new high-end 50's combos.