THE BRAND Taylor
Grand Concert Guitar Body, Grand Auditorium Guitar Body, Grand Symphony Guitar Body, Dreadnought Guitar Body, Grand Orchestra Guitar Body, Taylor offers five full-size guitar body shapes. Each body's unique dimensions help define its fundamental voice to give it a distinctive tonal personality.

Taylor Guitars was founded in 1974 by Bob Taylor and Kurt Listug, and has grown into the leading global builder of premium acoustic guitars. Renowned for blending modern, innovative manufacturing techniques with a master craftsman's attention to detail, Taylor acoustic guitars are widely considered among the best-sounding and easiest to play in the world. The company is a pioneer in the use of computer mills, lasers and other high-tech tools and proprietary machinery, and today, Bob Taylor is widely recognized throughout the musical instrument industry as the visionary acoustic guitar manufacturer.
Catalogue

Taylor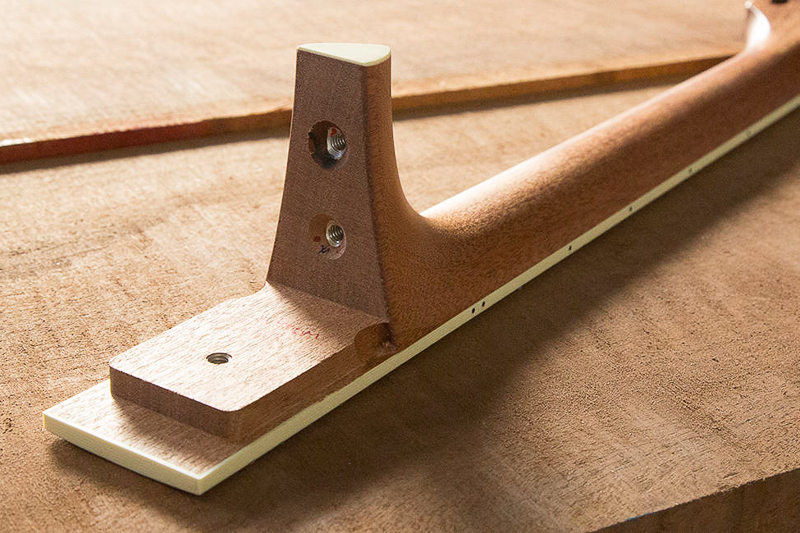 Permanent innovations
From their ethical sourcing of wood to the modernization of their production, Taylor developed innovative techniques that set them apart from other manufacturers. The body/sleeve attachment system (called "Taylor Neck") is undeniably their most remarkable invention. The laser-calibrated shims inside this joint allow for regular adjustments throughout the life of the instrument. Your guitar's string height will remain optimal for incredible playing comfort, no matter what. Once amplified, the Taylor electro-acoustic models will bring you a subtle balance between bass, midrange and treble thanks to the ES2 pre-amp and its piezo with 3 independent sensors. We can also underline the new V-Class bracing developed by Andy Power, or the improvement of the environmentally friendly polyurethane finishing process.
It is by shaking up the codes of traditional lutherie that Taylor folk guitars have become so remarkable.
Strong commitments
" If we don't replant, we won't be able to make guitars in 50 or 100 years" - Bob Taylor
From the beginning, Bob Taylor has sought to learn more about wood supply and forest management practices. As the head of a company that uses these resources, it was his duty to preserve them. Whether it is through his Cameroonian sawmill or the planting and study of ebony in the Congo Basin, he strives to ensure that the cultivation of exotic woods is maintained in an ethical and sustainable manner. Taylor Guitars is involved in the cultivation of koa through the Paniolo project in Hawaii, as well as in Fiji, Honduras and Guatemala to source mahogany, and also in the Pacific Northwest for maple. In addition to responsible sourcing, the brand favors the use of alternative woods that are not endangered on the market to design its acoustic and electro-acoustic guitars. Rest assured that your Taylor guitar supports an ethical and ecologically responsible market.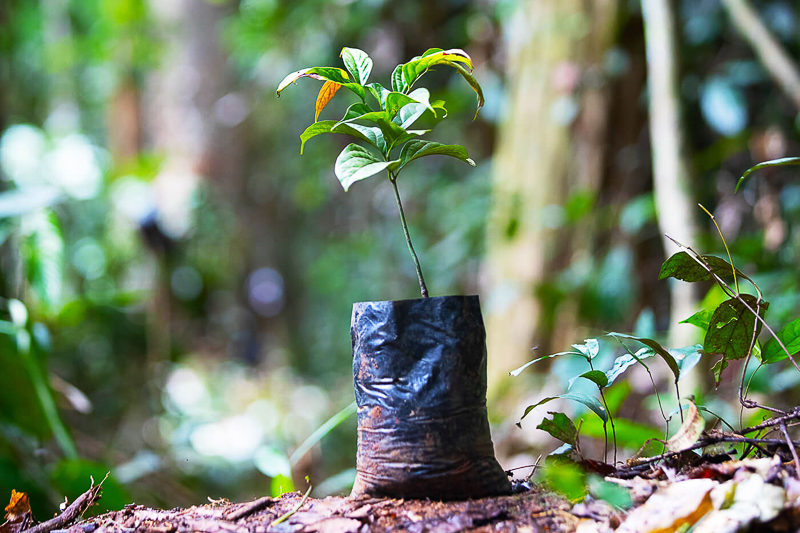 The luthier Andy Power
When Bob Taylor wanted to perfect the quality of his lutherie, he turned to master luthier Andy Power. Since his arrival in 2011, this young Californian has brought a steady stream of inspiring innovations to the entire Taylor line. Currently heading up the brand's guitar design, he is the creator of the V-Class bracing and the Builder's Edition with unique contours. More recently, he has been responsible for the Taylor American Dream series and the new GT Grand Theater body shape (more compact than their famous Grand Auditorium format). His fresh eyes and modern vision of lutherie continue to lead the company towards ever more efficient guitars while respecting the environment. Future generations will continue to enjoy these outstanding acoustic guitars for a long time to come.
The surprising V-shaped guitar bracing
The bracing is the set of thin pieces of wood that support the soundboard of your acoustic guitar. It corresponds to the sound architecture of your instrument. For almost 150 years, folk guitar makers around the world have used the traditional X-brace. It is by playing with its thickness and layout that the flexibility and stiffness of the top is altered, in search of the best compromise between volume and note duration (also known as "sustain"). In 2018, Andy Power came up with the "V-Class" bracing solution to eliminate the need to choose between volume and sustain. The vibration of the strings is transmitted in a different way, increasing both parameters simultaneously. The V-Class also provides a more consistent and precise sound all along the neck. Play a Taylor guitar and say goodbye to the legendary "dead spot".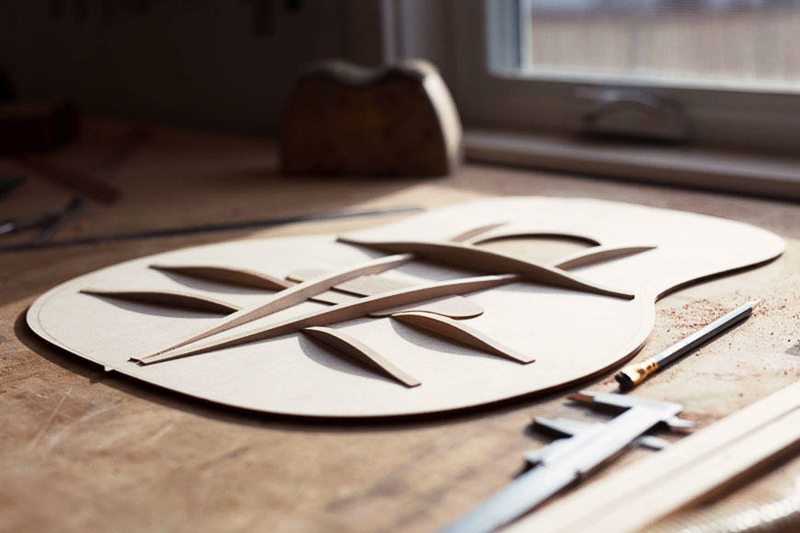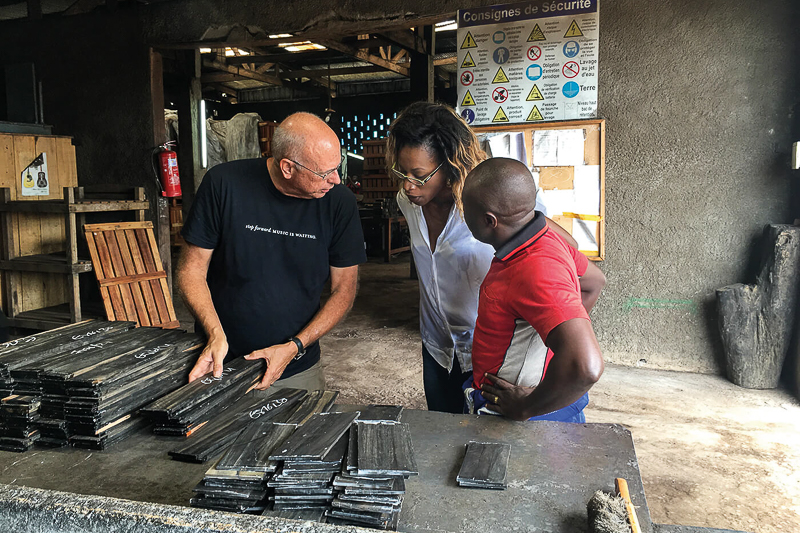 "The ebony project"
Co-managed by Taylor Guitars, Crelicam is much more than a Cameroonian sawmill. In addition to providing all the ebony needed to make Taylor guitars, it currently produces more than half of all the legal ebony in the world. In addition, it develops a social and eco-responsible dimension around the country's forest resources by ensuring that all available wood is used by an educated culture. Taylor guitars favor the use of marbled ebony, rejected by many manufacturers because of its contrasting visual appearance. Crelicam also supports scientific research and replanting to help save Cameroon's forest heritage. Bob Taylor works tirelessly on "The Ebony Project", it is by preserving today's resources that future generations will benefit as much as we do.
And much more...
Here's just a taste of what this essential brand has to offer. From the Taylor Academy student guitars to the all koa K24CE model, there is a guitar to suit your needs. Travel the world with your Baby Taylor on your back, this travel guitar will become your best travel companion, just like the GS Mini from elsewhere. For those who want something unique, you're sure to find it at Custom Shop Taylor. The best luthiers in the world will work on the guitar of your dreams, respecting each and every one of your criteria, from the wood species to the inlays and the varnish finish. What could be more magical than a custom made guitar!
The Star's Music difference
We are sensitive to the quality and longevity of the musical instruments we offer. That is why we guarantee our guitars for a period of 3 years. If you want to know more, just contact our hotline or go to the store . Our team of passionate specialists will answer your questions and guide you through your purchase. As for the settings of your future Taylor, rest assured; our teams are perfectly able to take care of your instrument and allow it to keep all its sound qualities over time.